Special Tips for Experiencing Busch Stadium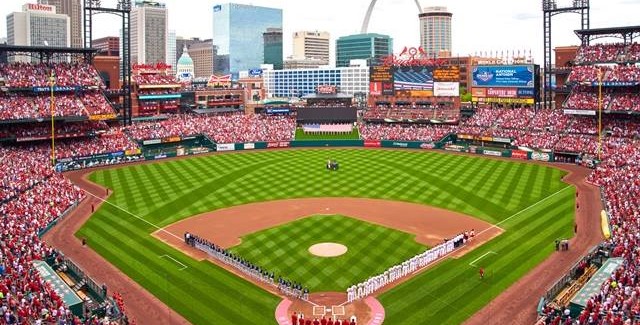 After months of offseason roster shifts and a competitive spring training session, baseball season has officially returned. While the Cardinals aim to bring another World Series trophy back to St. Louis, consider trying out these great tips when you go to Busch Stadium this summer.
---
1. Bring Your Own Snacks
Did you know that you can bring a bucket of fried chicken into Busch Stadium? Yep. It's true. Outside food and drinks are permitted as long as they are sealed in a duffel, tote, cinch bag, or purse (NO Backpacks).
Just remember that drinks must be non-alcoholic and carried in a clear, plastic bottle no larger than 2 liters.
For complete details about carry-in policies, check out Busch Stadium's Information Guide.
---
2. Download the Budweiser Ballpark Pass
Game tickets can be pretty expensive. Just sign up for the Budweiser Ballpark Pass to get automatic access to a
ll home games for only $30 a month!
As a pass holder, you'll receive:
Guaranteed standing room for each game

Tickets that scan right from your phone (No need to print anything out)

Auto-renewable bills each month (with the ability to cancel at any time)
Download the app from the App Store or Google Play for more details! 
---
3. Get Group Tickets
If you're going to a game with a large number of people, purchasing a group bundle is the way to go. Groups of 20+ people can receive discounts of up to 50%, depending on the game. Check out the Group Ticket Rules for more information about group benefits!
For more details about any other discounts or promotions, check out all of the Fan Value Programs!
---
4. Experience a New Social Venue
The Cardinals will debut the Budweiser Terrace at Busch Stadium thi
s season. This newly-renovated common area will offer a variety of unique social amenities including:
Two full-service bars

Plenty of standing room

Comfortable lounge space

Cabana seating

An entertainment stage for live music and DJ performances
Enjoy this new stadium attraction for free. Check it out in the upper-level territory of right field!
---
5. Avoid Transportation and Parking Struggles
Driving to and from the ball game can be a hassle. Finding a reasonable parking spot can be exhausting and expensive. Even Car-pooling can be frustrating to coordinate.
Avoid these challenges by letting St. Louis County and Yellow Cab take the wheel. Our drivers are equipped with enough experience to get you to and from the ballpark without any worry!
---
BEST Transportation, St. Louis County & Yellow Cab, and GO BEST Express comprise a family of companies that are committed to providing above-industry-standard transportation solutions for every need. It's more than just point "A" to point "B." It's about the experience