How Adult Children Can Help Their Aging Parents
When the time comes for your aging parents to need help staying safe and healthy, you might not know how to handle the situation. Understanding their needs, finding the best options, and making decision on behalf of your parents can be overwhelming. Read on to learn about useful ways you can help your parents when they need it most.
What to do when aging parents need help
Assess Your Parent's Needs
Caring for your parents can feel overwhelming when your unsure what exactly needs to be done, or where to start. To start planning, you can try focusing on several key areas that an aging parent may need help with: Medical Needs, Mobility, Personal Hygiene, Meal Prep, and Home Safety.
Think About Your Own Needs
Before you take on all of your parent's needs, it's important to plan and think about your own unique abilities. Do you live close enough to provide regular care? Do you have the time in your schedule for ongoing support? Are you healthy enough to physically care for someone else?
These are tough questions to take into consideration as you plan out a sustainable solution for your family.
Include Your Parent in Planning
By involving your parent in the planning process, you'll help them see you more as a partner rather than someone who is taking control of their life. Unless you're in an emergency situation, it can help to slowly take on responsibilities over time, rather than all at once.
Explore Aging Care Options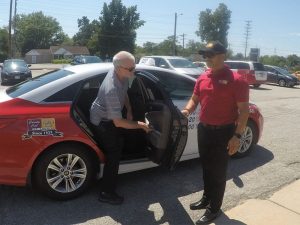 Most people don't have unlimited time to take care of their aging parents – and that's OK. There are many helpful resources to consider as options you can rely on. Here at St. Louis County Cab & Yellow Taxi, we pride ourselves in being able to offer affordable rides to seniors who don't drive themselves. You can also search for local resources for in-home care giving options or assisted living communities in St. Louis.
Additionally, you can make booking and managing rides across town easier for your parents, by opening an account with us! Our taxis are available 24/7, 365. Taxis can be booked for local travel like doctor's appointments, running errands, delivering packages, and more. Learn more about opening your own account with us by filling out the quick information form found here.