Celebrate 314 Day in the Lou
Across the country, people refer to March 14th as Pi Day, but it's better known as 314 Day in St. Louis! Since 314 is our area code, it only makes sense that we celebrate our wonderful city. Admittedly, this year is going to be a little lackluster in comparison to years past because we are one year into a pandemic. However, that won't stop local restaurants from dishing out the best food St. Louis has to offer! Take a look at some of the ways you can satisfy your hunger for St. Louis pride.
Let's Eat!
St. Louis has its own unique culture of cuisine. We all know that the waffle cone was invented here at the 1904 World's Fair, but here are some other meals you might want to make on 314 Day:
St. Louis Style Pizza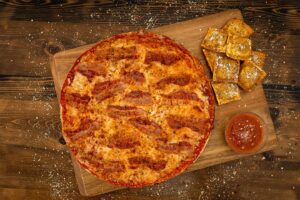 You thought you knew pizza, but you haven't seen anything until you've seen St. Louis style pizza! Thin crust pizza topped with Provel cheese – yes, that's Provel cheese, which is a mix of cheddar, swiss, and provolone. You can find this in a number of popular STL pizza joints including the ever popular IMO's.
Toasted Ravioli
Toasted ravs are everything! St. Louis takes ravioli up a notch by breading and frying the meaty pasta and serving it with a side of marinara sauce.
Pork Steaks
Why do other parts of the country give this delicacy a dumb name like "Boston Butt?" Pork steaks are thin cut (but the best are on the thicker side) pork shoulder that are a staple of every St. Louis BBQ. You know we're a cut above!
Slinger
If you had one too many Buds the night before, the Slinger will be calling your name in the morning! Get a plate of cheese, breakfast potatoes, eggs, and meat (usually sausage, hamburger, bacon, or ham) under a pile of chili. Always served with either toast or hash browns!
St. Paul Sandwich
If you often find yourself torn between Chinese and a sandwich shop, then do we have the combo for you! The St. Paul Sandwich consists of an egg foo yong patty with mayo and LTP on white bread. Look out for variations that include gravy, chicken, beef, or shrimp!
Frozen Custard
No, it's NOT ice cream! It's frozen custard! The smooth, creamy frozen treat is always in demand in STL. The real question is: sundae or concrete? The real answer is: BOTH!
Gooey Butter Cake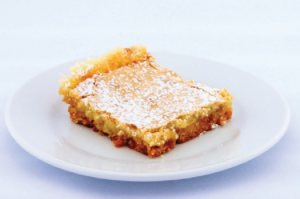 Okay, stop drooling. This dessert is a staple of St. Louis and a variation of a coffee cake with a gooey, buttery center and crispy edges. There are a million variations on the flavors, and you might even see gooey butter cake make an appearance in other desserts like milkshakes!
If you're thinking of cooking a St. Louis-inspired dish, Schnucks has created a recipe list for this very occasion!
314 Day Specials
Red alert! Red alert! A number of St. Louis restaurants are having specials, including a few restaurants that will be selling items for $3.14! Check out a full list here.
Mission Taco – Toasted Ravioli Taco
We know, we couldn't believe it either. Mission Taco is releasing their soon-to-be-classic Toasted Ravioli Taco to celebrate 314 Day! Their Facebook page described this taco as "a Parmesan-crusted crispy corn tortilla with an Italian-seasoned meat filling, Mom's marinara sauce, shredded Provel cheese and topped with parsley and Parmesan cheese." And, yes, THIS is going to be $3.14 and only available on March 14th!
Hi-Pointe Drive-In – St. Lunatic Burger
It's baaaaack! Sprint over to Hi-Pointe Drive-In for your chance to get a St. Lunatic Burger! Okay, so they take a burger, right? Of course, it's a Provel cheese burger. But then, this burger is also topped with a pork steak, toasted ravs, and sprinkled with Red Hot Riplets. THEN, instead of a bun, the burger is sandwiched between two slices of St. Louis style pizza. This is the best thing to be built in St. Louis since The Arch!
If you're planning on celebrating 314 Day in St. Louis, consider supporting another local business – St. Louis County & Yellow Taxi. We can give you a ride to all of the best spots to satisfy your STL craving!