Back to School Transportation
Solving the Problem: How to Get Your Kids to School This Year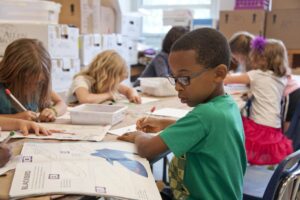 The 2020/21 School year has parents faced with extra challenges of how to balance getting their kids to and from school. Maybe your school has a varying schedule, including when "after" school activities are taking place. Are you participating with POD learning? If so, then you may be adding several more challenges to your day. Talk about parents being super heroes right now trying to keep their children safe and learning. We want to help. You may be juggling a lot of different back-to-school elements this year, and we know we can add some relief. Our private taxi service is convenient, affordable, and reliable. You can save time by ordering a taxi touch-free on our free app, so you will know your loved one will get to school on time, safely, and hassle-free.
Safety Measures for School Transportation
We understand the concern for letting a person you don't know drive your child to school. That's why County & Yellow Taxi has made it our mission to ensure the safety of everyone that enters a taxi. Similar to school bus drivers, our drivers must be vetted extensively before even being considered to drive a taxi for our company, let alone the schools.
Vetted Drivers
Our friendly drivers have safety on the mind, and they want to make sure that each passenger arrives without an issue. Parents have come to rely on our services, so we take this seriously. Did you know that each year our company has transported over 2,000 individual school children in grades K-12? This service has been operating since the 1980's, and we have taxi drivers that are specially vetted by the school districts. We are looking forward to assisting more families in this difficult time.
Clean Transportation
Covid-19 is scary, so County & Yellow Taxi is actively taking measures to keep all passengers safe. For example, we have installed safety partitions into every vehicle, helping to maintain more distance between the driver and the passenger. Furthermore, all of our drivers have been instructed to wear masks when with passengers. Each vehicle is sanitized daily, and touch points are sanitized between rides. Other public transportation services won't offer you the same guarantees. Learn more about our Covid Safety Measures here.
Why Choose County & Yellow Taxi?
County & Yellow Taxi has been in the business for over 85 years, so we have quite a bit of experience in dispatching taxis. We have earned the trust of the community through our consistent quality service. Safety has always been our top priority, and you can depend on us to get you to your destination.
Local, and Women-Owned
We are a third generation, women-owned St. Louis company. We are loyal to this city, and we are proud to provide transportation to the St. Louis area. Local businesses need your help now more than ever.
Our Free App
You can utilize our free app to order a taxi when you need it. It's easy to use, and you can save your payment information on your account. This means that your child doesn't have to carry money or figure out how to tip because you are in charge. You can also track your child's pickup and drop off in real time.
Dispatching Services
You can call our dispatching services 24/7, 365 days a year with questions or concerns. Just dial 314-991-5300 to schedule, cancel, or check the status of a ride. Additionally, feel free to visit our website and create an account for similar services.
We'll Help You Through This
County & Yellow Taxi is committed to helping our passengers travel stress-free. We are always available for questions and concerns, as we are open 24/7. School transportation is going to be different this year, so be prepared for anything by choosing County & Yellow Taxi.
Be safe. Ride local!