Thanksgiving Tips
It's almost turkey time! While some may be excited about the upcoming feast, others may be stressing out — mostly those that are doing the holiday shopping. Since there is so much that goes into the meal, there is also a lot that goes into the shopping. This year, major grocery chains like Dierbergs, Costco, Target, and Walmart will be closed on Thanksgiving, so it's extra important to plan ahead. You can BAKE the best of this season by using this post to get organized. Feast your eyes on our tips for being the holiday hero!
The Best (and Worst) Time to Grocery Shop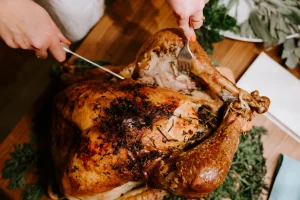 First of all, let's identify the days that are the busiest: the Tuesday and Wednesday before Thanksgiving. Most people would expect the day before turkey day to be the busiest, but that Tuesday is just as busy. All of the "Oops! I forgot the…" thoughts start popping into people's heads, and they try to rush to the grocery store on Tuesday to avoid the Wednesday crowd. Unfortunately, the stores are busy, and the shelves are bare — especially if you go after work. Some suggest going that Wednesday morning or later in the night when fewer shoppers are present. On the other hand, others suggest finishing up your grocery shopping by the Monday before Thanksgiving to avoid the stress all together. If you're able to get really organized, you can even make dishes in advance and freeze them!
Check out this Make-Ahead Thanksgiving feast from the Food Network!
Stores Closed on Thanksgiving
Dierbergs
Costco
Target
Walmart
Trader Joe's
Schnucks
United Provisions
City Greens Market
Aldi
Stores Open on Thanksgiving
Fields Foods
Whole Foods (closes early)
Save-A-Lot
CVS
Tips to Save Money on Your Grocery Bill
BASTE on past Thanksgivings, you might already have an idea on how to save some money. That being said, sometimes we get caught up in tradition and don't think about some alternate shopping habits. Here's a quick list on ways you can save money while grocery shopping:
Buy generic
Avoid buying ingredients for just one dish
Make a list
Check off items on your list as you shop
Consider buying a turkey breast instead of a whole bird
Keep in mind that it's NOT a faux pas to ask people to bring their own dishes to Thanksgiving dinner! Typically, people are willing to help, and they're excited to bring something they like. By doing this, you will save time AND money. Additionally, it reduces the amount of dishes you utilize. There is no reason to go out and buy more dishes to accommodate a group when they can bring their own. Easy as pie!
Bonus Tip: Ask everyone to bring their own plastic storage containers to take home leftovers without risking losing your own.
Tips for Thawing a Turkey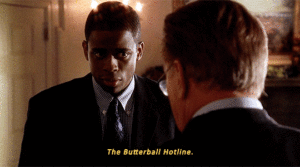 Some people are able to find a fresh turkey for Thanksgiving dinner a day or so before the meal, but that's not very common. Frozen turkeys are often the way to go. According to Butterball, there are a few things to keep in mind while thawing a turkey. Make sure you move your turkey to the fridge 1 day per 4 lbs of turkey. The turkey should be cooked within 4 days after being thawed. However, don't ruffle your feathers if you forgot. The tur-key to a successful Thanksgiving is to not panic! You can always use the cold water method which requires more attention than the fridge method. Simply place the bird in cold water and change it every 30 minutes. Make sure the turkey is still in its wrapper and is completely submerged. For every pound, thaw it in the water for about 30 minutes.
For more how-to information, check out Butterball, or call the Butterball hotline. We swear this isn't sponsored, we just really wanted to add this GIF!
Tips don't get any butter than this! Enjoy your holiday, and stay safe. If you have family coming in, you're traveling yourself, or need assistance grocery shopping, call County & Yellow Taxi!