Shark Week 2021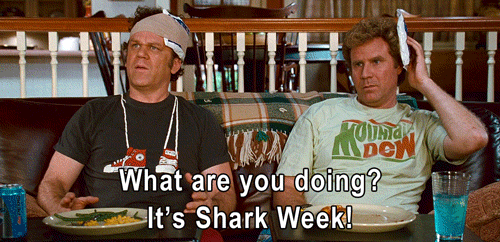 This content is not sponsored.
Ah, Shark Week. The holiday made up by the Discovery Channel to promote the conservation and education of marine life. By now, it's safe to say that Shark Week has become a cultural phenomenon. If you're looking for an excuse to party, we've got some jaw-some suggestions for you!
Classic Shark Week Events
Shark Week 2021 Shows
You can't have Shark Week without the shows! You can find the complete guide here. Some of the highlights this year include celebrities like Tiffany Haddish, the cast of Jackass, Brad Paisley, and Snoop Dogg. There are also some crazy new approaches to shark research like MECHASHARK, The Real Sharknado, and Dr. Pimple Popper crossing fields of study.
2021 Shark Week Race
Virtual races have become quite popular within the last year. The 2021 Shark Week Race will join the new tradition of virtual races. You can download the app for the race and receive fun shark facts at different mile markers! It's a 44.6 mile race, but don't worry, it's at your own pace. Log and track your progress while listening to the curated Spotify playlist and watching videos of the beautiful Maui, Hawaii!
Social Media
You can continue your conservation education on the apps you use every day! Check out the Discovery Facebook, Twitter, Instagram, and TikTok accounts for fin-tastic content!
Sharks in STL
See Real Sharks
You can visit some real sharks at two incredible St. Louis attractions: Caribbean Cove at The St. Louis Zoo, and The St. Louis Aquarium! The aquarium is going to host a Facebook Live event introducing its audience to the sharks at Union Station. Go wild!
Bars & Restaurants
If you've ever been down to Ballpark Village, you may have been to the aptly named Shark Bar. Order yourself a beach pail punch in honor of Shark Week! Just make sure you don't drive afterwards (we can give you a ride). Or if you're feeling hungry, check out the shark-themed Syberg's Restaurant. You can listen to live music, play some trivia, eat some of their famous wing sauce, or even order a plate of shark chunks (but maybe don't tell the shark conservationists). For those who would rather eat LIKE a shark, there's always Shark & Deli. There are a number of fish dinners you could sink your teeth into if that's your jam, but there are plenty of fishless feasts available as well.
Fitness
Are you looking to get in shape this summer? Check out Shark Fitness in Clayton, MO for a boot camp to whip you into shape in the unlikely event of a land shark attack. Wanting another way to get in shape? Visit Big Shark Bicycle Company for all of your bicycle needs! While you're riding, you can always jam out to Jimmy Buffett. Just don't do the "Fins to the left, fins to the right" part while riding. Keep your hands safely on the handlebars!
More Shark Fun
Shark-tails
Who's thirsty? Make your own shark-themed cocktails with ideas from this Pinterest board!
Fin Facts